 The magician
Freddie Rutz is one of the
house magicians of the
winter garden variety in
Berlin and performs at many
international events, galas
and receptions. He is a former
dancer and musical performer and a popular
artist at many international trade fair shows.
As one of the few magicians with a full theater
education, comedy-magic is his big passion.
Freddie speaks fluently
fourlanguages.
The corporate
magician
Freddie successfully
appeared at many international
trade fair shows as a presenter,
infotainer or corporate magician. During his
theater years he was always interested in
working for international companies. Today he
is an internationally demanded live marketing
specialist and one of the very few European
performes who worked at the CES in Las
Vegas.
2017 he had his biggest performance in China,
where he conjured for the Volkswagen Golf
Carnival Premiere in Guangzhou infront of
10000 spectators and over 30 million viewers
via live stream.
Perfect infotainment with your
product!
The Berlin-based magician Freddie Rutz
guides the perception of your customers with
magic. In a few seconds he astonishes your
crowd. The "performance" staged by Rutz is a
sales show for your product and lays the
foundation for your sales. Rutz uses his
comedy magic and his Swiss charm
purposefully and brings your customers to
wonder and laughter. That's infotainment!
Business-Show für B2B
Freddie Rutz staged a wide range of products
ranging from cardiac pacemakers, color
televisions and butcher machines to cars and
services, and much more.
His clients are international companies like
Volkswagen, Samsung, Fujitsu, Sony. The trips
for these companies took him to China, South
Africa, Thailand, Egypt, Tunisia, Azerbaijan,
USA, Dubai, Jordan, Israel, Japan, Korea,
Canada and 17 European countries.
Not one show resembled the other. His clients
did recognize that Freddie comes up with
something new for each product and never
delivers comparable unitary goods. That's why
Henriette Kang from Samung called him the
"Treasure of ideas!"
When does Freddie Rutz work for you?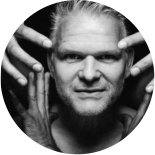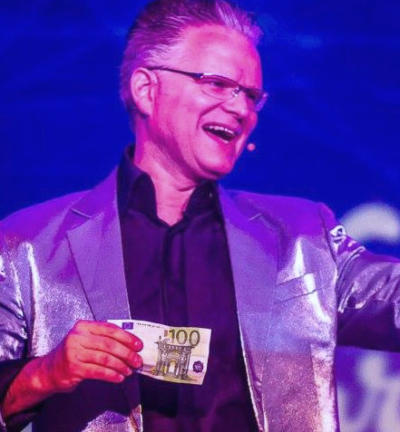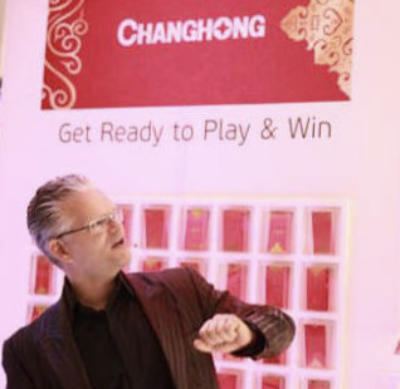 Stay in focus
In our virtual world, people lose the ability to
attract attention in real life. The more effective
is the appearance of Freddie Rutz as an
experienced entertainment professional!
Priceless is the amazement on the face of a
spectator in the magic moment. In common
eye contact, he convinces your visitors and
binds them to your product or campaign.
As a former professional dancer and musical
performer he worked at operas, musical
theaters and on many TV shows. His passion,
the magic unites all previous stage
experiences. This is what makes him unique in
business magic today, as most magicians and
infotainers come from non-artistic professions.
As the son of a structural engineering
professor, Rutz himself is very affine in
technology. Without engineering education,
he has been holding a patent for a mechanical
camera joint (GoPro) since 2016. With a lot of
fun and fascination he stages technically
different products in an original way in his
shows. He also develops all the necessary
props in his Berlin studio.
What others say about Freddie:
"Dear Freddie, you are simply our treasure of
ideas!
Your show was a public magnet! Great
working with you! Thanks!"
Henriette Kang, Samsung Head of Events, Korea
Your presentation was certainly different than
all the others on the fair. You surprised with
superb magical production of the products.
You switched effortlessly between the
languages and the best thing about it was that
it was absolutely different. Very enjoyable!
Thank you!
R.
Shanaey,
U.K.
You are George Clooney of the trade fair
business. Your magic blew my mind!
Yusif Sahin, Web Blogger
"You did a great job for us at the World Hosting
Days!"
Shilpa Shetty, Endurance India
"Thank you very much for your commitment
on our booth at the Gitex in Dubai. We all
agreed that you contributed greatly to the
success of our show and that your entertaining
infotainment show was sure to draw visitors to
the booth and attract interested participants
to Fujitsu. We all enjoyed working with you. "
Anne Cyprian, Fujitsu - PFU Limited
"You had the hardest part and delivered with
bravour. What you have accomplished has
exceeded our expectations. We thank you for
your efforts and tireless efforts! "
Hilde Du Rochez, Event & Kommunikation, Hettich AG
Freddie makes everyone laugh about his gags
and astonishes everyone with his magic. He
convinces as a multilingual moderator.
Combined with its entertainment, he
entertains every international audience.
Eventpartner
5/2005
Creating dance masterpieces is not the only
talent Mr. Rutz has. As a magician of the
famous Wintergarten in Berlin, he is a
multitalented man whose hobby and passion
is his profession.
Jacqueline Parade, Call Back News, Las Vegas